STAND NUMBER: 5053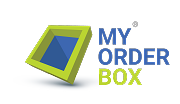 My Order Box
There are countless POS systems, online ordering and delivery management providers out there but none that integrate these solutions like we do.

To find out more, visit our Website: www.myorderboxhq.com or give us a call: +44(0)203 137 8483

Some features that we know you'll 'love' to use:

* Integrated Online Ordering - Get online quickly and easily using 'Live Pepper' or 'Just-eat'. Let's get your orders directly into your terminal.

* Integrated Own Branded Website & App - Customers can order directly from your responsive website or branded app with our unified online orders solution.

* Click & Collect - Allow customers to place orders with you when it suits them on their mobile phones or other devices.

* Customer & Loyalty Management - Use our Integrated solution to chose a Loyalty solution that you like, manage Repeat Customer Orders, Create Promotions and Directly Market to Customers from the Terminal.

*Integrated Delivery & Driver Management - Our in built or 'Orderlord' integration allows you to manage drivers & deliveries easily.

* Menu Management - Being cloud based allows you to set your own delivery prices and update all your terminals at the same time.

* Cloud Based Reports - Drill down into Hourly, Daily, Weekly reports on Cash, Card, Online, Delivery Sales at the click of a button, securely from anywhere. You can now see how much 'Cash' you have in the till in real time!

* Inventory/Stock control like no other - The spine of My Order Box is our intricate yet effortless stock control system which allows you to manage all your products.

* Real Time Tracking of Inventory - So you are aware of how much of each item is available at that precise moment of time.

* Food Cost Engineering - You can now determine your most and least profitable items, you can now engineer more cost-effective menus.

* Stock is low alert - Be immediately alerted once inventory is about to go below a specific level.

* Track all aspects of foods & determine wastage - Regulate your items down to ingredient level.

Come and see us on our Stand 920 for a demo and more information!


0203 137 8483