STAND NUMBER: 2060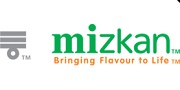 Mizkan Euro Ltd
Owners of Branston, Sarson's, Mizkan dressings for all foodservice needs!

Mizkan is a family run Business started in 1804, with Sites globally in Japan, America and the UK and have over 210 years in producing high quality food products. Mizkan are the proud Brand owners of the Iconic brands of Branston, Sarson's, Hayward's, Dufrais wine vinegars & Mizkan vinegars and sauces, with 2 UK manufacturing sites at Bury St Edmunds and Middleton, Manchester.

On the day you will be able to see and sample the whole food service range and be first to see the exciting NPD of Branston Front of House Table Sauces and Sachets and also the Japanese dressings and sauces which will be able to add a twist to any menu and bring flavour to the everyday all launching in 2017.

We look forward to seeing you at the Mizkan stand Number xxxxxx to enjoy the samples.



+44 (0)203 675 2220