STAND NUMBER: 1033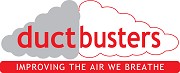 Ductbusters Ltd
Ductbusters Ltd commenced trading in 1996, before the advent of Google, Facebook, Blackberries, Internet, CD's and Broadband. As a company today we could be considered as ancient! However there is nothing ancient about Ductbusters, training methods and Customer Services. We are well known across the Service Industries for our attention to detail, reliability and superb methods of work.

Our in-depth knowledge of ductwork, Fire Dampers Kitchen extract systems and air handling units is gained over forty five years of experience within the Heating and Ventilation trades. This enables ourselves to gain access into the most inaccessible areas of the AHUs and ductwork systems and to ensure that the ductwork system is returned to the original condition of the ductwork specification BSDW144 and the designers requirements. The use of fully experienced A.H.U. and ductwork fitters enables our clients to be confident in the safety and maintenance of their systems. All repair and refurbishment of AHUs and Ductwork systems is carried out using materials and equipment compatible to the BSDW144 Ductwork Specification.

Since its inception the company has been of service to all sizes of organisation from the smallest fast food restaurant to new hospital PFI projects, education, local councils, MOD and industry. Within these types of premises we can clean and refurbish all types of ventilation systems. Using superior technology including CCTV, Bullseye and Digital camera systems in association with the latest verification and sampling methods i.e. DTT, WFT, PVT, Microbiological and particle analysis, clients are comfortable in the knowledge that we not only clean, we prove that it is clean.
Growth has been significant and a nationwide fleet of fully equipped vehicles staffed by directly employed Service Technicians are available to improve the indoor air quality and operational efficiency of equipment such as ductwork systems and associated air handling units. All Service Technicians undergo training to the B&ES Green Book Ductwork cleaning program and this is complemented by a number of Health and Safety certification to IPAF, PAMA, CSCS Accreditation, Confined Space Working procedures, First Aid and Asbestos Awareness training.
Service Technicians are equipped with the latest technology in PDA units that enable full details of projects including Health & Safety documentation and the ability to send and receive digital display photos of past and present projects.
The company keeps up to date with all current working practises within our industry by membership of the following trade organisations;
• BESA Building & Engineering Services Association
• ADCAS, Association of Ductwork Contractors & Allied Services
• ICA, Infection Control Association

Ductbusters Ltd are accredited by the B&ES, Safecontractor, CHAS, Constructionline, EXOR, Altius and are Registered with the Environment Agency as a Certified Waste Carrier and Broker, Members of ADCAS, FETA, Institute of Infection Control. Audited Quality systems are to ISO 9001. Environmental accreditation to ISO 14001.

The ongoing training of the workforce ensures that all Ductbusters operatives are competent in the projects conducted on our clients premises.

We specialise in the cleaning of the internal surfaces of ducted air conditioning systems, kitchen extract systems, testing and inspection of Fire Dampers and the repair, refurbishment and maintenance of Air Handling Plant.

Our knowledge of Hospital operating theatre environments ensures that all systems
maintained by ourselves can be certified to comply with all relevant COSHH and EEC
legislation now in force.

Our present client base consists of N.H.S. Hospital Trusts, Local Authorities, and Blue Chip companies, if required references can be given from previous projects.



0121 559 1555