STAND NUMBER: 481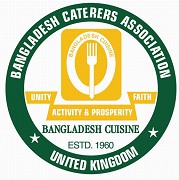 Bangladesh Caterers Association
BCA
Oli Khan has vast experience in the British curry industry and working as a chef and his versatility is legendary has won countless awards for his cooking and community relationship, his highly creative recipes and for his impeccable hygiene standards for which he has also won many major awards. Despite his enormous commercial success, cares deeply about what he calls his social obligations to the underprivileged in Bangladesh and the United Kingdom.
Undoubtedly and most certainly, Oli khan is a true representation of one that thinks of others in all his endeavours, he is always buzzing with new concepts and ideas on how to better the community that we are a part of and how to further his involvement with projects. he emphasised issues within the British curry industry that created awareness on a national scale and also recognised talent and skills in the industry that will normally go unacknowledged. He proved in this project that he is a man of many talents and a motivated person at all times.
Oli has expressed his concern about the British curry industry staff shortage and the reduction in Non-EU migration can have implications upon the lack of skilled chefs available in the British curry industry. On this note, his work and achievements have appeared in British mainstream print and electronic media such as BBC, SKY, ITV, CNN, CBC, LBC, The Financial Time, The Economist, Guardian, Telegraph, Washington post, USA Today and many more.

Oli Khan will be covering
£4.5 Billion curry industry! How to overcome staff crisis, Job opportunity in the curry industry?
Mr Khan has over 28 years of experience in the multibillion pound curry industry. He will be discussing about the British curry industry, how to recruit un-skills worker and how we can overcome the skill shortage, reducing the menu item and creating opportunity for the new employee, the food and Hospitality sector is one of the largest recruiters of staff, however what we struggle to recruit are people who are passionate about British Curry and want to create and make a difference to the sector. We know of 100's of employers who are desperate for the right candidate looking for a career within the curry houses, and furthermore someone who could potentially drive the business forward in years to come.




0208 9693765