STAND NUMBER: 2032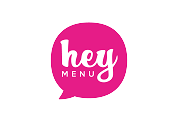 HeyMenu
So, imagine you order your favourite pizza for delivery. You`re tired, hungry and looking forward to tucking into all that doughy, cheesy goodness. Your pizza arrives, you open the box and one third of it is missing. Either the delivery guy got hungry, or someone has taken a massive slice before it left the restaurant. Something`s not right!

That`s a bit like someone taking a slice of your hard-earned profits. At HeyMenu, we`ve been listening to many of you in the restaurant takeaway space and you all seem pretty hacked off with the high commission rates from third party takeaway platforms.

We`re here to change that. At HeyMenu, we charge no commission. None. Not one single percent. Nada.

Partner with us and you keep 100% of your takeaway order sales for yourself. All we charge is a tiny joining fee to cover the cool kit we send you and a maximum flat monthly fee of £65 to keep the orders flocking your way. So, the busier you are, the more money you make. And it`s all yours to keep.

Want to enjoy the whole pizza? Join the online takeaway revolution today.


0800 466 1466